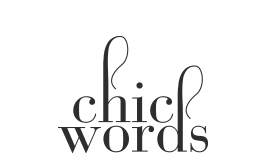 STYLE FOR SMART & CHIC SOULS
Green Carpet Fashion Awards 2020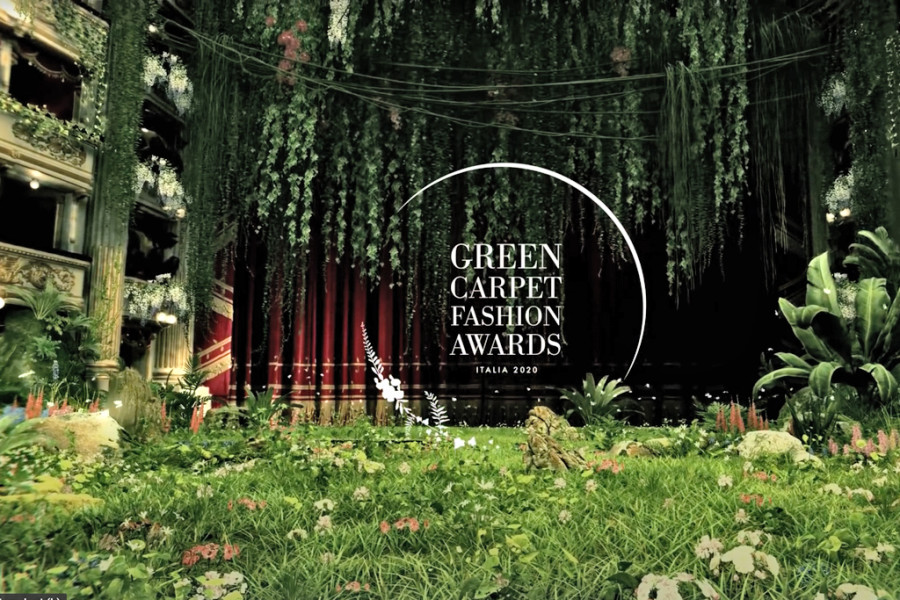 One of the main resolutions I've decided to cultivate in this brand new year is to not get overwhelmed by the daily work commitments and to reserve the right space for long-term projects, those that tickle your mind while you're in the office on a grey day, when everything seems too complicated to work, those that at the mere thought of them you fall asleep smiling and at night they make you dream of successes and Hollywood-style glamorous parties, those that everyone says: "They can't be done!" – and so it happens that you want to realise them even more! But most of all I want to commit to never postpone anything again, because if there's one lesson I've learned from 2020 it's that freedom is a right but it's also a privilege, that time isn't always infinite and that sometimes the unimaginable happens and life, the beautiful, true and authentic life can't and shouldn't be put on hold. Never again.
And one of the projects I care about most is corresponding with you Smart & Chic Souls through these Chic Pages. So here I am again with you. Today's topic is a focus on ecoglamour and sustainable fashion, which I want to tell you about from the virtual garden of the Green Carpet Fashion Awards 2020.
Let's enter the virtual garden
of Green Carpet Fashion Awards 2020!

---
The event, born in 2017,[Note 1] was organized by Camera Nazionale della Moda Italiana and Eco Age, with the support of the Ministry of Foreign Affairs and International Cooperation and Italian Trade Agency, as a sort of Fashion Oscar dedicated to professionals and brands that have distinguished themselves for their attention to the theme of sustainability. So, a truly interesting event!
But the digital edition of October 10, 2020 was also particularly innovative thanks to the use of Augmented Reality and Telepresence Oleographic Technologies.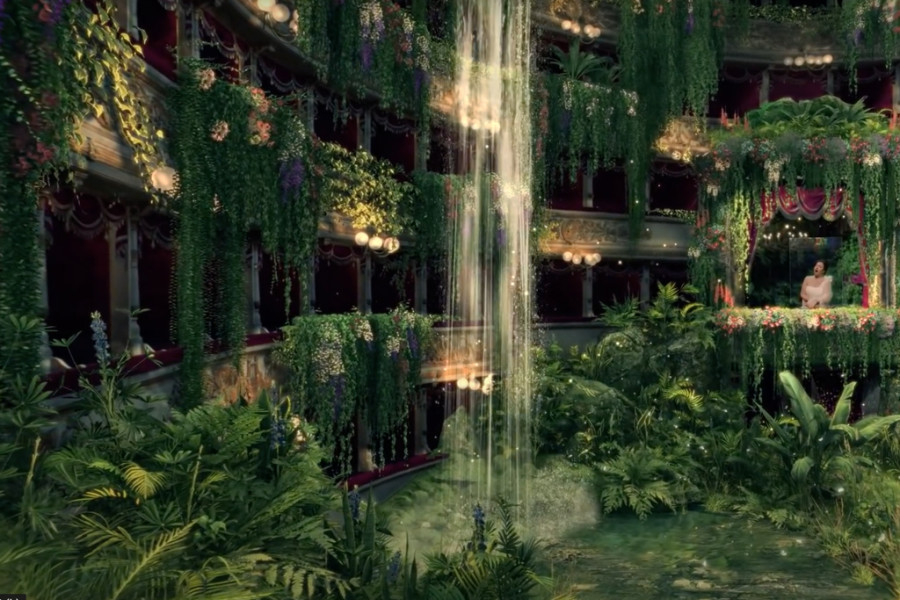 The evening really represents to the nth power the concept of how sustainability can embrace glamour and style, starting from the phygital location, the Teatro alla Scala in Milan, invaded by climbing plants, tropical flowers, natural waterfalls and butterflies, in an explosion of natural digital elements.
"Tonight is centered on sustainable and ethical values " with these words Robert Downey [Note 2] introduces the Green Carpet Fashion Awards 2020 and continues" Fashion can be a leader [in change for a better world]because it's as artistic as poetry and as influential as politics[…] What we wear speaks to who we are and what be believe in."
This sparkling introduction opens the evening of awards in a succession of guests and winners truly noteworthy.
"What we wear speaks to who we are and what be believe in"
Robert Downey

---
GCFA Visionary Award
Zendaya

---
"Tonight we are going to refashion the world" with these words Livia Firth opens the beginning of the awards ceremony and presents the first winner: Zendaya.
Zendaya is the stage name of Zendaya Maree Stoerman Coleman, an actress who has used her professional visibility to promote values such as inclusivity and diversity in fashion. [Note 3]
GCFA Responsible Disruption Award
Progetto Quid

---
The GCFA Responsible Disruption Award the prize is awarded to Project Quid, which is virtually collected by Anna Fiscale, Founder and President of Quid.
"Quid is a social enterprise that offers a safe employment opportunity to vulnerable people – especially women – who have battled and overcome difficult situations on a personal or social level." in this way the association is described on its official website.[Note 4] Progetto Quid is the ethical and sustainable fashion brand created by the social enterprise Quid, featuring limited edition clothing and accessories produced from surplus fabrics made available by the most prestigious fashion and textile companies.
GCFA Best Independent Designer Award
Sindiso Khumalo

---
Sindiso Khumalo is a designer with a strong emphasis on sustainable textiles with African influences. She is based in Cape Town.[Note 5] Her textiles are designed through watercolors and collages and she works closely with an NGO to develop handmade textiles for her collections. In October 2015, she won Vogue Italia's "Who's On Next – Dubai" competition and she is working closely with the International Trade Centre Ethical Fashion Initiative.[Note 6]
GCFA North Star Award
Nazioni Unite per The UN Global Goals

---
The North Star Award is given to organizations or individuals who demonstrate outstanding leadership and it is presented by Tatiana Valovaya, General Director of the United Nations. The award refers to Sustainable Development Goals (SDGs), the 17 goals for sustainable development defined by the United Nations. [Note 7]
Tatiana Valovaya also recalls the recent creation of the UN Alliance for Sustainable Fashion: "an initiative of United Nations agencies and allied organizations designed to contribute to the Sustainable Development Goals through coordinated action in the fashion industry. Specifically, the Alliance works to support coordination among UN agencies working in the fashion sector and promote projects and policies that ensure that fashion value chains contributes to the Sustainable Development Goals."[Note 8]
GCFA Art of Craftmanship Award
To Italian Artisans

---
The award is given to the entire fabric of artisans that is the foundation of Italian fashion and, together with design, the hallmark of Made in Italy.
On this occasion, Giuseppe Conte, President of the Council of Ministers of the Italian Republic, recalls the important contribution of artisans to fashion industry and Italian industry in general.
Guests present in Holographic Telepresence can't be distinguished from the presenters that were actually in Milan, a real High-Tech Fashion event, thanks to the partnership with companies like ARHT Media and Northhouse Studio.
I'm really excited about the event, the values represented for the development of Sustainable Fashion and the interesting guests who attended. I can't wait to attend the 2021 event! How about you?
In the meantime, for those of you who missed them, under the photo of the beautiful Zendaya, I've provided the link to the other posts dedicated by Chic Words to the theme of eco-glamour, so that you can arrive prepared for the next GCFA!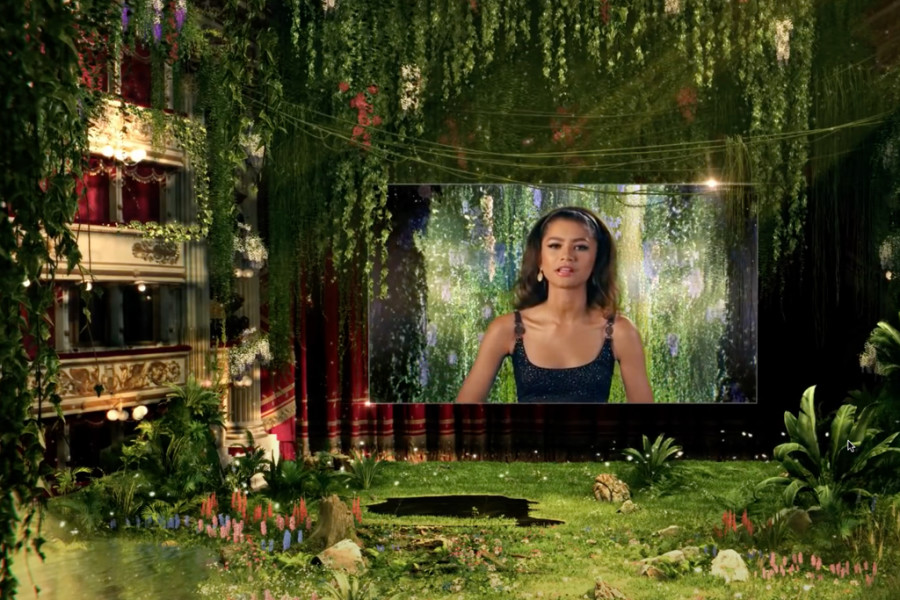 More gems about ecoglamour:
---
>>> Aquafil: a company where the economy is truly circular N.B. Aquafil is one of the sponsor of Green Carpet Fashion Award! We love it!
>>> Ananas for your ecoglamour
>>> Ecoalf: rethinking fashion business models




FOOTNOTES
[1] Green Carpet Fashion Awards were born in 2017 but the idea dates back to 2010 when Lidia Firth at the 2010 Golden Globes, wore a vintage wedding dress starting the Green Carpet Challenge.
Livia Firth, born Livia Giuggioli, is an Italian film producer and married to Oscar-winning actor Colin Firth. Livia is also the founder and creative director of Eco Age, the first ethical shop, better defined in the increasingly popular manner of concept store, located in London.
[2] Robert John Downey Jr. is an American actor and film producer.
Since 2008, Downey has emerged internationally through his role as the superhero Iron Man, appearing in the films of the Marvel Cinematic Universe (i.e. a media franchise centred on a series of superhero films produced by Marvel Studios and based on characters appearing in Marvel Comics publications.)
Less well known but very interesting to us is that he created the Footprint Coalition,an association that invests in and promotes the use of new technologies to protect the environment.
[3] To learn more about Zendaya and her actions in favour of inclusivity and diversity in fashion, visit her Facebook page https://www.facebook.com/Zendaya.
[4] Quid official website https://www.quidorg.it.
[5] Sindiso Khumalo official website http://sindisokhumalo.com.
[6] Ethical Fashion Initiative official website https://ethicalfashioninitiative.org.
[7] Sustainable Development Goals are described at this page https://www.globalgoals.org.
[8] Translation into Italian – by Maddalena Mometti – from the text on the website https://www.adaptation-undp.org/resources/link/un-alliance-sustainable-fashion.

IMAGES
The images are taken from the full video of the Green Carpet Fashion Awards 2020 ceremony available on the Fashion Channelal Youtube channel at this link.